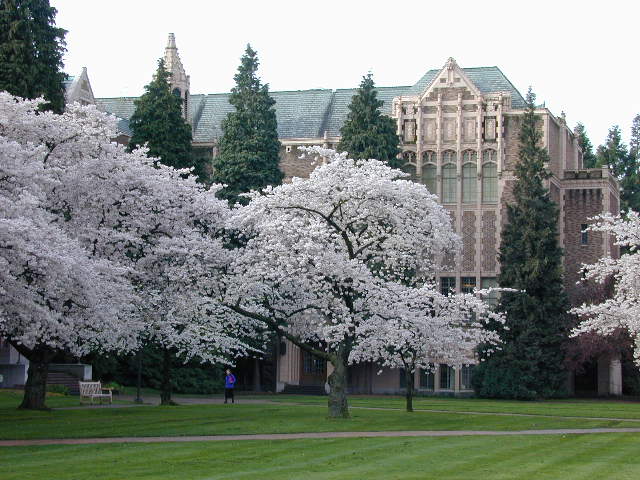 It was a whirlwind trip to Seattle  and we are now safely home.  With the other four youngest kids already buckled in their seats, we picked Dimples up from school on Wednesday and headed out.  They were very calm on the trip and we made it quickly to Ellensburg where we stopped for dinner at Wendy's.  With all of the traveling to and from Seattle that we have done this year, I've become an expert at navigating Super Value Menus and finding decent choices.
As we loaded up to continue our trip, I texted my friend, Neely, to tell her where we were.  Her reply was a bit disconcerting, "Oh…I thought you were coming tomorrow…"  Fortunately, she and her husband are really wonderful and they welcomed us anyhow.  We arrived at 9:00, carried the kids up to tuck them in sleeping bags on the floor, and then spent nearly two hours catching up with our friends.  I wish we lived closer and could see each other even more often. [We checked email later and, what do you know?  I told her we were coming Thursday!]
After a reasonably good night of sleep, we fed the kids a quick breakfast and headed to Deborah's office where we had appointments from 9:00 – 11:00.  As always, our time was well spent and I concentrated as hard as possible to take in everything she said.  Russ took all of the other kids for a walk to the nearby beach while Deborah worked with Dimples, and then we switched and she worked with Honeybee.
Sweet Pea lives in Seattle and had just spent the morning at Seattle Children's for a class, so  she waited there for us to pick up lunch and meet her.  We finished up with Deborah and zipped over to Subway for sandwiches before heading across beautiful Lake Washington.  Spring is slowly making its way to our home, but in Seattle, the trees have leaves, the flowers are blooming, and it is beautiful!
At Children's we ran into my cousin whose son was just diagnosed with Type 1 Diabetes and had been in the hospital for four days.  It was so great to see them and I'm glad we could hear what is happening with their son. We had a quick visit with Sweet Pea too, which was very wonderful.  We miss our daughter!  She looked so official with her stethoscope around her neck.
When we checked in for our appointments, we found out that Eby's had been canceled because our OT was sick.  I'm so glad we didn't travel 300 miles for that one appointment!  Our regular appointments went great and we even ran into two other families we know which was fun.  We love our doctor and the kids always look forward to seeing her.  Amazingly, they also love the nurse who draws their blood; she has a true gift.
We were back on the road by 4:00 headed east over the mountains.  The trip home was slow for many reasons, including a stop in the middle of nowhere for an unpleasant, but highly necessary bathroom break in a farmer's field. We finally made it home at 10:30.
[This post contains Amazon Affiliate links. As an Amazon Associate I earn from qualifying purchases.]
It was especially nice to have Russ driving because, while he listened to sermons on my iPod, I finished reading Three Cups of Tea.  I learned so much from the book and really enjoyed  Greg Mortenson's story of building schools in Pakistan and Afghanistan.
Tomorrow is devoted to wedding tasks, including getting the guest list figured out.  I've been too busy to get it done, but deadlines are approaching and invitations must be ordered.  The friend who is coordinating the reception is coming over to look at the backyard and talk more about reception plans.
The "Summer of Yardwork" is about to begin.

~Lisa
This post may contain Amazon Affiliate links. As an Amazon Associate I earn from qualifying purchases.