A brand new experience…
(my fingerprints, to be sent to the FBI for a criminal background check)
(the fancy scanning machine…they no longer use purple or red or blue ink)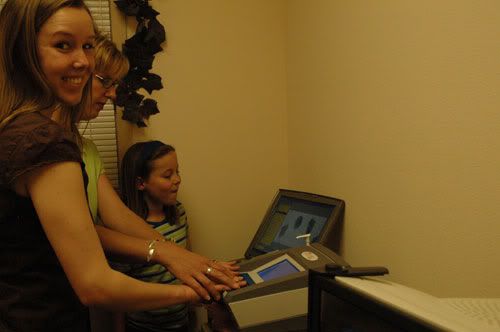 If you are wondering what on earth I did to deserve fingerprinting…it was not the heat of a ridiculously warm May driving me to commit crimes (even minor ones). In fact, the fingerprint session goes with wonderful news.
My family is in the process of adopting 2, or possibly 3, children from Ethiopia! The first minor bit of paperwork is done, but there is lots ahead. Fingerprinting is part of the criminal background check for all family members over the age of eighteen.
Please pray that the process goes smoothly and that God blesses us with 2 (or 3) wonderful children. There is such an incredible need…between 5 and 6 million orphans in Ethiopia. I am so proud of my parents for deciding to bless orphans with the love they have given to me and my brothers and sisters.
As an aside, finals and papers went well. God was very kind in both sustaining me through a gauntlet of two crazy weeks and helping things to turn out well. Thanks for all the prayers and encouragement. Have a wonderful summer!
This post may contain Amazon Affiliate links. As an Amazon Associate I earn from qualifying purchases.